A few weeks ago I had the adventure of a lifetime. I walked miles across the open desert with few visible landmarks, forded a silty fast-moving river, squirmed my way out of knee deep quicksand, squeezed my way through slot canyons and scrambled up an 800 foot cliff… But, it was more than a physical journey, it was a time of immense of self-discovery, I contemplated my life, shed some tears and basked in the open silence of the desert (I didn't see a single person for more than 48 hours in a row).
The trip had two legs, an easy out-and-back jaunt on the Boulder Mail Trail–my first time ever desert hiking. Followed by an attempt at a modified version of James and Amy's Escalante Side Canyons Loop. My goal was to hike 15 miles over two days on the first route and 100+ miles over ten days on the long trip.
The initial leg yielded 15 miles of delightful hiking. The second trip was harder and more rewarding than I could have ever imagined. After four days and 55 miles of hiking, I arranged for a shuttle back to my car. Despite cutting the trip short, I felt completely grateful and victorious. This was the trip of a lifetime.
In all, I wound up hiking 71 miles in a little more than a week. This nearly 4,000 word trip report covers the physical landscape (feral) and my emotional landscape (evolving). I've also included some of the 35mm film photos I took on my slightly broken Olympus XA from 1979.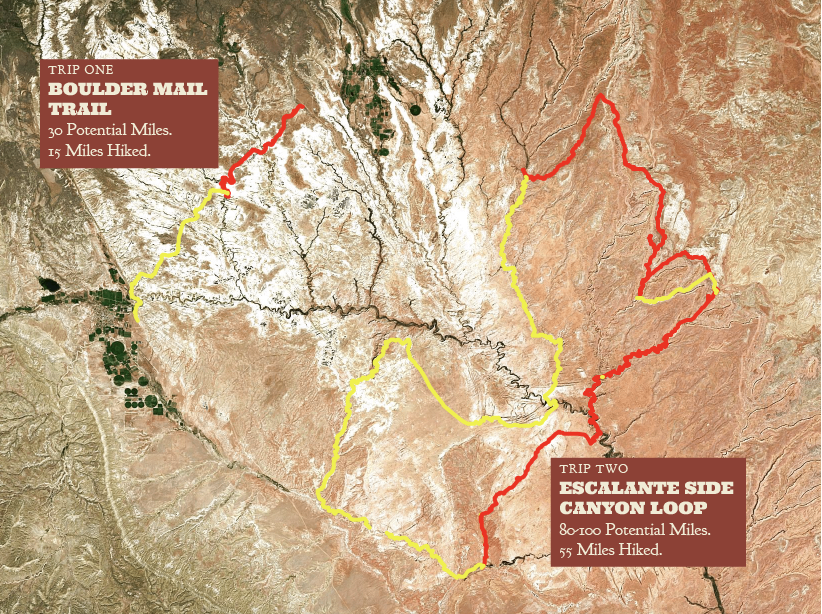 The final route (click to go to CalTopo).
This trip started with an obsession with the American West sparked by a love of what I call "Sad Cowboy Music". As you read about my journey, I encourage you to listen to some Willie, Townes and Waylon.
I cannot recommend hiking in Grand Staircase Escalante more. That said, this is the wildest place I have ever been and even with more than a hundred hours of research, I was overwhelemed and surprised every single day. I've included some gear I was glad I had as well as some recommended resources at the bottom of this post. Be careful out there and if you have any questions email me.